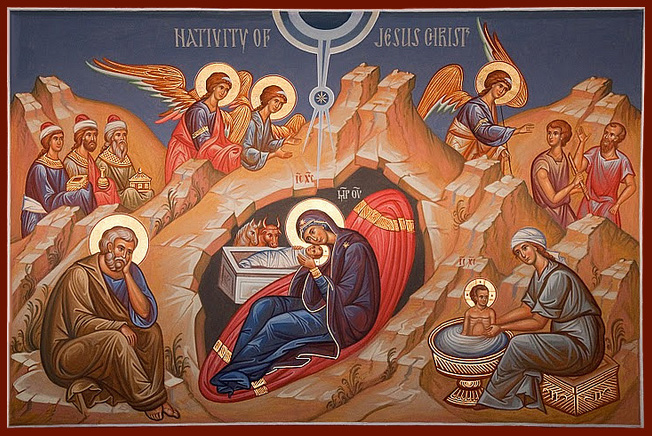 Over the past 12-years of authoring this blog, I've considered Advent to be a great privilege to observe, especially from a multi-religion point of view.
Advent for the Orthodox community began on November 15 with the Feast of the Nativity. Pascha and Advent are two periods of the year that Orthodox place special emphasis upon. Locally we are fortunate to have three branches of the Orthodox faith well represented by churches and clergy: Greek Orthodox, Eastern Orthodox (Antiochian), and Orthodox of America (formerly Russian Orthodox in Alaska). You will find many of their services chronicled in the Tag Cloud on the right-hand side of the desktop version of this blog. Just click on ADVENT.
Advent for Western Christianity begins today. One of the traditions I enjoy about its observance is the lighting of a new Advent candle each week, often accompanied by a homily pertaining to that named candle. Todays theme is Hope.
"The Advent wreath, or Advent crown, is a Christian tradition that symbolizes the passage of the four weeks of Advent in the liturgical calendar of the Western church. It is traditionally a Lutheran practice, although it has spread to many other Christian denominations.[1][2][3]
It is an evergreen wreath with four candles, sometimes with a fifth, white candle in the center. Beginning with the First Sunday of Advent, the lighting of a candle can be accompanied by a Bible reading, devotional time and prayers.[4][5] An additional candle is lit on each subsequent Sunday until, by the last Sunday of Advent, all four candles are lit. Some Advent wreaths include a fifth, Christ candle which is lit at Christmas Eve or Christmas Day.[6] The custom originated in family settings but has also become widespread in public worship." Source – Wikipedia
I wish each of my readers a meaningful Advent season and pray that your journey toward Christmas will be filled with insight and joy. Covid has made this Advent journey especially difficult, but I sincerely Hope it draws each of you closer to God. Check back frequently as I'll be updating the blog with Advent news and readings.
ct